FINANCIAL POLICY: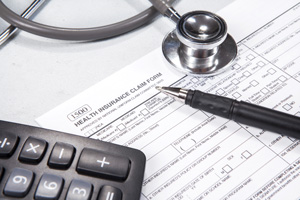 1.  Endocrine & Diabetes Center, P.C. (EDC) will file for insurance benefits and accept payments according to contractual agreements with participating insurance companies. Any dispute or questions concerning insurance coverage or payment of benefits is a matter between the policyholder and the insurance company.
2.  Referrals and Authorizations: It is the patient's responsibility to contact and obtain from the insurance plan any referrals, pre-certifications or authorizations prior to receiving any non-emergency medical services from EDC.  If appropriate referral is required and is not delivered at the time of service, the patient's appointment may need to be rescheduled or the patient may choose to accept full responsibility for all charges and fees billed by EDC.
3.  The patient will be responsible for payment of "non-covered" or "incidental" services related to patient care, including but not limited to telephone and/or email consultations, prescription refills not done at the time of service, dietary instruction, diabetes education or other medical care requested not covered by the insurance policy.
4.  There will be a charge for copying medical records, letters or any medical forms which need to be completed by the physician.
5.  A $50.00 fee will be charged for any missed appointments not cancelled twenty-four (24) hours prior to the scheduled appointment.
6.  EDC will bill for any balances which arise due to insurance co-payments, co-insurance, deductibles, insurance denials, termination of coverage, non-addition of a dependent to insurance plan, non-payment at time of service and/or any other reason and patient would be responsible to pay all charges within thirty (30) days of the billing date. Interest of one and one-half percent (1.5%) per month, eighteen percent (18%) per annum, may be charged on all delinquent accounts over sixty (60) days.
7.  If the balance is not paid within sixty (60) days of the billing date, or if agreed upon payment arrangements on the account are not made, EDC may retain the services of an attorney and/or collection agency to assist with the collection of any outstanding balance. The patient will be responsible for all additional fees incurred from that attorney and/or collection agency.
8.  If for any reason a check is returned, there will be a $25.00 returned check fee in addition to the original fees for services.
9.  We trust that the patient will provide EDC with correct and up to date insurance coverage and expect patients to immediately inform EDC of any changes in personal demographic information, address, e-mail and, telephone number (s), or insurance coverage.
10.  I understand that I should obtain all my prescription needs at the time of my visit.  Prescription refills that are not obtained at the time of my visit would require evaluation of my medical records and decision making regarding the advisability and safety of refilling the medication. I understand that the Endocrine & Diabetes Center is entitled to establish a policy to charge for prescriptions that are not refilled at the time of service.